Swamp White Oak
Quercus bicolor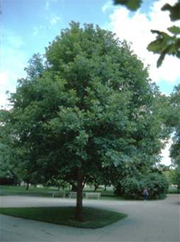 The swamp white oak, Quercus bicolor is a tough drought tolerant, wet soil tolerant broadleaf work horse of an urban tree as you might ever see.   It may not have some of the bright fall color characteristics of some of the other newer cultivars, but this Midwest native should be on your street tree and open space tree list.   It has a broad and strong branch structure with the potential to become a relatively care free urban tree.  The swamp white oak can be susceptible to a number of potential diseases and insect pests, most of which are not too significant in the Pacific Northwest.
The leaves are alternate, simple, rounded to coarsely lobed with variable wavy margins. They are dark green above with silvery-white underside, sometimes so perfect, they almost look artificial.   Surprisingly, new young leaves emerge with a spattering of red near the edges.  In the fall, leaves turn golden or near orange.
Give the swamp white oak plenty of room as it will grow at least 50 feet tall and wide, a perfect tree where canopy coverage is your goal.  Young trees exhibit a flaky, peeling bark with an orange inner bark. Mature bark is a dark gray-brown with blocky ridges.  Yes, this tree has acorns which some people may frown on, but for wildlife's sake, we should be willing to accept.   Acorns are 1 inch long and enclosed halfway with a warty cap. The cap often remains attached to a stalk once the fruit is ripe and falls from the tree.
From our experience and others, this is one of the easier oaks to transplant, good to consider given that most oaks are just the opposite.   And given its tolerance to a broad range of soil moisture conditions, the swamp white oak should also be considered for the increasingly popular rain gardens.
There are some great new cultivars and hybrids that are improvements over the straight species.  Consider these when you search for better urban tree varieties.  American Dream® (Quercus bicolor 'JFS-KW12'):  Good resistance to anthracnose and powdery mildew.    This cultivar has a broadly pyramidal shape and dark green foliage changing to yellow brown in fall.
Related hybrids (between Quercus bicolor and Quercus robur 'Fastigiata)
Kindred Spirit® Ware's Oak (Quercus x warei 'Nadler'):  A columnar cultivar, growing 40 feet high by only 6 feet wide; red-orange fall color.  Resistant to drought and powdery mildew.
Regal Prince® Ware's Oak (Quercus x warei 'Long'):  Narrow habit,45 feet high and 20 to 25 feet wide. Excellent resistance to borers and powdery mildew.  Sometimes has a bright yellow fall color.
Let me know if you have comments on these or other nursery trees for street and landscape use.
Jim Barborinas
ISA Certified Arborist #0135
ASCA Registered Consulting Arborist #356                    CLICK HERE FOR MORE TREE PROFILES
Certified Tree Risk Assessor #PNW-032