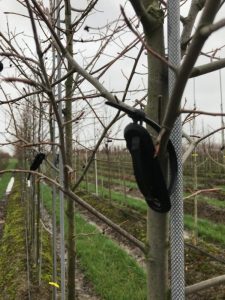 Click here Inventory 9-20-2023  for our latest inventory availability.
We have now entered the high tech age of tree inventories. Every tree in our nursery now has an RFID (Radio Frequency Identification) tag on it so that we can track it from the day the liner arrives in the nursery and is planted, to the day it is sold and leaves the nursery.  We might have this tree for up to 6 years.  Every tree is unique and grows at a different rate and now we can track its source, growth rate, bag size and other unique characteristic to provide you more accurate availability throughout the year.
Our goal has always been to provide the best quality nursery stock both above and below ground, but chasing the caliper and height sizes has always been a challenge for us in keeping you in the know of what we have. We have been working closely with Arbre Technologies, of Wauwatosa, WI, the company that developed this application.  We welcome any questions while we implement and improve this amazing new system to improve our information transfer to you, our customer.
Please click HERE to sign up for monthly updates on our latest inventory availability.