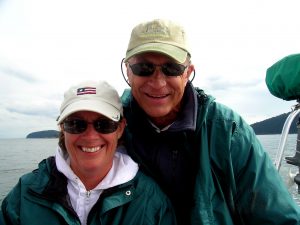 Annie and I moved from the mid-west to Washington State in January of 1988. After a couple of years working for another local forestry consulting business, we started our own small arboricultural consulting company based in Mount Vernon, WA. Since then, Urban Forestry Services, Inc. has become a respected leader in urban forestry and horticultural consulting practices around the Pacific Northwest.
A few years after starting the consulting business, we wanted to explore our other passion of actually growing the trees we are so enthusiastic about. Initially, we rented a small field down the road and began planting. As timed evolved and the passion grew, we eventually purchased 32 acres of beautiful land in the Skagit Valley to start a wholesale tree nursery. Over the years, Urban Forest Nursery, Inc. has remained steadfast in always ensuring clients are delivered high quality street and landscape trees in growbags.
As both companies grew, our engagement in arboriculture has as well. From riding in the very first Tour de Trees for International Society of Arboriculture (ISA), to our commitment of a semi-truck load of trees to a tornado ravaged city in Illinois, or active role as a long- standing board member of the TREE Fund, we have genuinely remained committed to making arboriculture better for everyone. Lastly, we are proud to announce our $100,000 TREE Fund endowment, that represents our long-term commitment, has been fulfilled. The TREE Fund will begin soliciting grant proposals to provide valuable information on the improved methods of tree production, transplanting and longevity. As the Fund increases, more research can be funded. If interested, you can help with this effort by:
We thank all our past, present and future clients. Without your patronage, our success in this incredible industry and ability to contribute back over the years would not be possible. Thank you!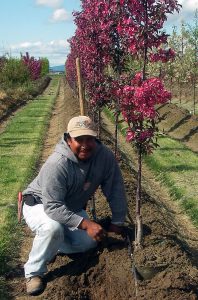 Urban Forest Nursery, Inc. has four full-time employees helping out in the field.  For over twenty years, Abel Contreras has held the position of Field Operations Manager, responsible for supervising the day-to-day work associated with planting, irrigating, pruning, digging, and loading.  Juan, Paulino and Gabriel are Abel's right-hand men, and work hard to ensure the nursery is in tip-top shape. Stacey Jones is our Sales & Inventory Manager and has worked for UFN since 2015.