Marilee Flowering Crab
Malus 'Marilee'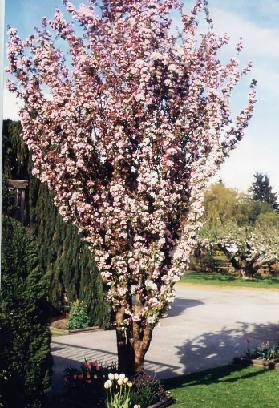 There is a new flowering crab in town, and its name is Marilee.  It is appealing for at least two reasons in regard to street tree use.  It is columnar and is said to be fruitless.  In addition, of course, it is flowering, actually heavy flowering, which makes it a very showy tree.
We are most familiar with the Marilee Flowering Crab because it was found and patented right here in the Skagit Valley near Mount Vernon, Washington.  It has also been in the Flowering Crab Planting Trials at the WSU Extension in Mount Vernon, and is available from Urban Forest Nursery, Inc.
The photo to the left is of the parent tree at approximately 20 years old.  This is a very upright tree, and nursery grown trees with a 5′ to 6′ crown height will provide an excellent narrow form.  The ultimate height is unclear, but it is estimated to peak at about 22′ to 25′ with a width of approximately 6′ to 8'.  The flower starts as a dark pink bud then opens to a near pure white. However, from a distance, the younger buds create a mottled red to white appearance.  The leaf is a typical dark green color and Malus shape.  As a small spur type tree, there are not many branches when young, but based on the growth of the parent, the tree becomes more dense over time.  Like most flowering crabs, they transplant easily, especially during the dormant season.
The original owner and founder, Mr. Marvin Jarmin, reports they have seen no disease or insect problems.  As for its fruitlessness, he reports seeing only a few shriveled fruits on the tree in only some years.  We have seen the same on trees grown in our nursery.  A few fruits are apparently not unusual on so called fruitless tree varieties.  For example, most of us have observed fruit on other 'fruitless' tree varieties such as Flowering Plums and Pears.
Marvin reported that Schmidt and Carlton Nursery in Oregon have these trees in production and will soon be available to the industry at large.  We were able to acquire some of the first grafted liners, so we have some available now.  This should become another great tree selection for planting under power-lines, as well as where buildings or traffic require a narrow form tree.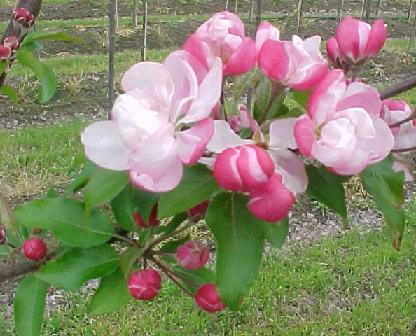 Jim Barborinas
ISA Certified Arborist #0135
ASCA Registered Consulting Arborist #356
 Certified Tree Risk Assessor #PNW-0327