Lindsey's Skyward™ Bald Cypress
Taxodium distichium 'Skyward' PP22812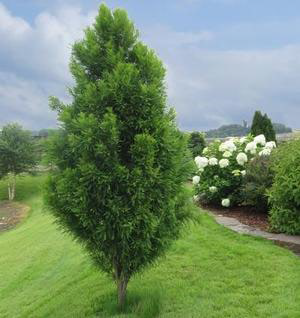 Once again, I find myself impressed with a relatively new tree cultivar. We are fortunate that nature provides so many alternatives. The Lindsey's Skyward bald cypress tree has many unique qualities, especially attractive to urban plantings. First of all, it is a relatively compact tree, maturing out at less than 30 feet tall and under 10 feet wide. It is a deciduous conifer, dropping its small flat needles in the fall after an extended period of rusty red fall color. Many experienced arborists have stories of being called by tree owners to cut down or investigate why their tree is dying only to get the good news that it is similar to their broadleaf relatives, still alive and well, but going into dormancy.

Apical dominance in a central leader is a strong trait in the Lindsey's Skyward bald cypress. But it is important to inspect young trees for double leaders battling for dominance and to immediately prune the less dominant leader out. Lateral limbs typically have a small aspect ratio to the main trunk, growing upward at 45 degrees or tighter. The summer foliage is lime green at first, soft to the touch, and appear as fine, almost feathery needles or flat sprays on the twigs. Mature foliage turns a dark green color that accents the elegant upright structure of this tree. In fall, the needles tend to drop all at once, creating a short-lived dense cover of bronze color around the base of the tree.

Bald cypress trees are generally known for their "knees" that develop around their base from surface roots, but this Lindsey's Skyward selection lacks that peculiarity, which could pose a nuisance or trip hazard for many urban planting sites. Bald cypress transplants relatively easily and this selection apparently has a deep root system. It will grow in full sun to light shade and tolerates wet locations, as well as poorly drained or tight clay soils, all attractive qualities for urban tree plantings.
Like so many other unique cultivars, this tree was discovered in 1990 in a seedling plot in Mustang, Oklahoma by Robert M. Lindsey. It was observed for 20 years and patented in 2012. It is certainly worthy of consideration for any number of urban, street, garden, and landscape locations.
As always, let me know if you have any experience with this or other trees to consider in our urban plantings.

Jim Barborinas
Urban Forestry Services | Bartlett Consulting
Urban Forest Nursery, Inc.
ASCA Registered Consulting Arborist® #356
ISA Certified Arborist® #PN-0135
ISA Tree Risk Assessment Qualified
Thanks to Christina Pfeiffer for editing