Lavalle Hawthorn
Crataegus x lavallei


Although not used as much as it could be, I consider the Lavalle Hawthorn another almost bullet-proof street or landscape tree. The leaves are 2″ to 4″ long and 1″ to 1½" wide, and develop into a shiny, lustrous dark green color, almost appearing evergreen into a mild winter. The flowers are white and showy in spring, followed by bronzy to coppery red colors in fall. Fruit is brick red to orange, and from ½" to ¾" diameter. They ripen in November, and I noticed the fruit falling off the tree during late February. Disease or insects do not appear to cause any problems.
Narrow and vigorous in its youth, it begins to widen in form after establishment. This is also another great power line tree. Ultimate height is around 25′ and width is closer to 20′; although in excellent growing conditions, it can get a little taller and wider. The form is dense and oval-headed and can be perfect, or not so perfect, in shape. A little corrective pruning can help.
The existence of thorns is typically light, but interesting in appearance. I notice more thorns on trees under stress, or a tree growing on a poor site. On our nursery trees, in good soils and drip irrigation, we see almost no thorns. Older, well-established trees show the same thornless trend. Mature Lavalle Hawthorn trees can develop unique form and structure. It can develop a character and strength that you hope for, but is sometimes rare in a smaller stature tree. Some of the limbs can take unusual turns, and with age, become very interesting. The wood is very strong, so storm damage is rare.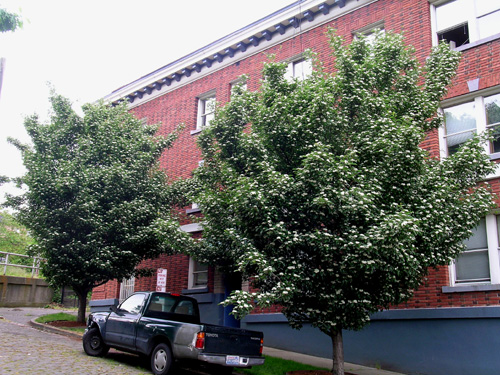 Hawthorn roots do not appear to be aggressive, so they are sidewalk friendly. I also suspect these trees are relatively long-lived. This is a
sleeper variety that should be used in more sites where you can tolerate a late winter fruit drop, if the birds don't get there first.  Contact me with your comments on this tree.
Jim Barborinas
ISA Certified Arborist #0135
ASCA Registered Consulting Arborist #356                    
CLICK HERE FOR MORE TREE PROFILES
Certified Tree Risk Assessor #PNW-0327