Hot Wings Maple
Acer tataricum 'GarAnn'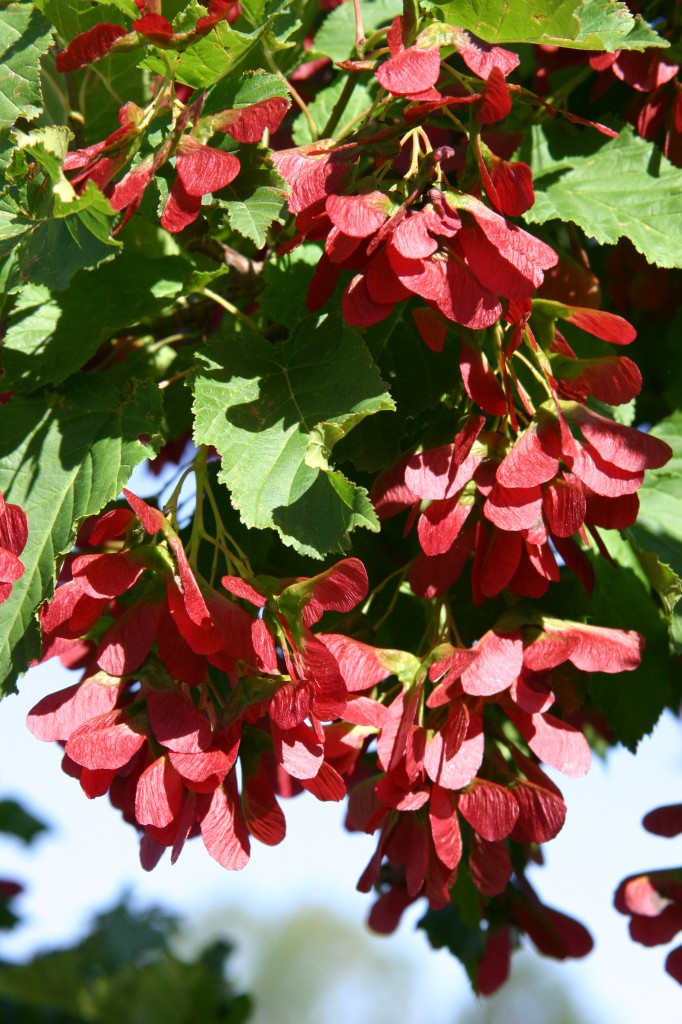 And there I was,  stopped in my tracks again, walking the nursery rows.   Hot Wings maple, acer tartaricum 'GarAnn' did that this summer.   Bright red 'whirlybird' samaras had shown up in tight bunches all over these trees, nothing like I had ever seen.   And then I find out that they last for at least 6 weeks with this amazing show of color.  It turns out that Hot Wings was developed by Colorado State University and introduced by Plant Select so its origin is notable. Frankly, acer tartaricum maple never impressed me much although touted as a tough cold hardy tree with a wide range of soil condition tolerance.  Structure can be challenging and fall color was only so so.   But the bright, and I mean bright 'Hot Wings' during the summer, while most everything else is just green, steal the show and raise this tree to a new level.
Because of its challenging structure, many are grown as multi-stem trees, and well it should be.  This form just brings the red bouquet of hot wings closer to eye level.   The ultimate height and width is approximately 25 feet, so not only an excellent garden addition but also a great candidate for an under power-line street tree.   Crown form is somewhat rounded and the bark is a light brown.
I mention fall color as so so, but others report interesting fall red color, likely in the colder climates.  This is a zone 3 tree so take note Alaska and east-siders for another great tree to add to your list to consider.  The Hot Wings maple is also touted as being drought tolerant and soils tolerance from acidic to alkaline which can be a real advantage to our wide mix recipe of urban soils.
Growth rate can be fast once established so you have to jump on the structural pruning early in its establishment.  Transplanting does not appear to be difficult given the 100% establishment rate of all that I have seen planted. Let me know if you have any experience with these trees.
Jim Barborinas
ISA Certified Arborist #0135
ASCA Registered Consulting Arborist #356                    
CLICK HERE FOR MORE TREE PROFILES
Certified Tree Risk Assessor #PNW-0327