Emerald Spire® Flowering Crab Apple
Malus x adstringens 'Jefgreen'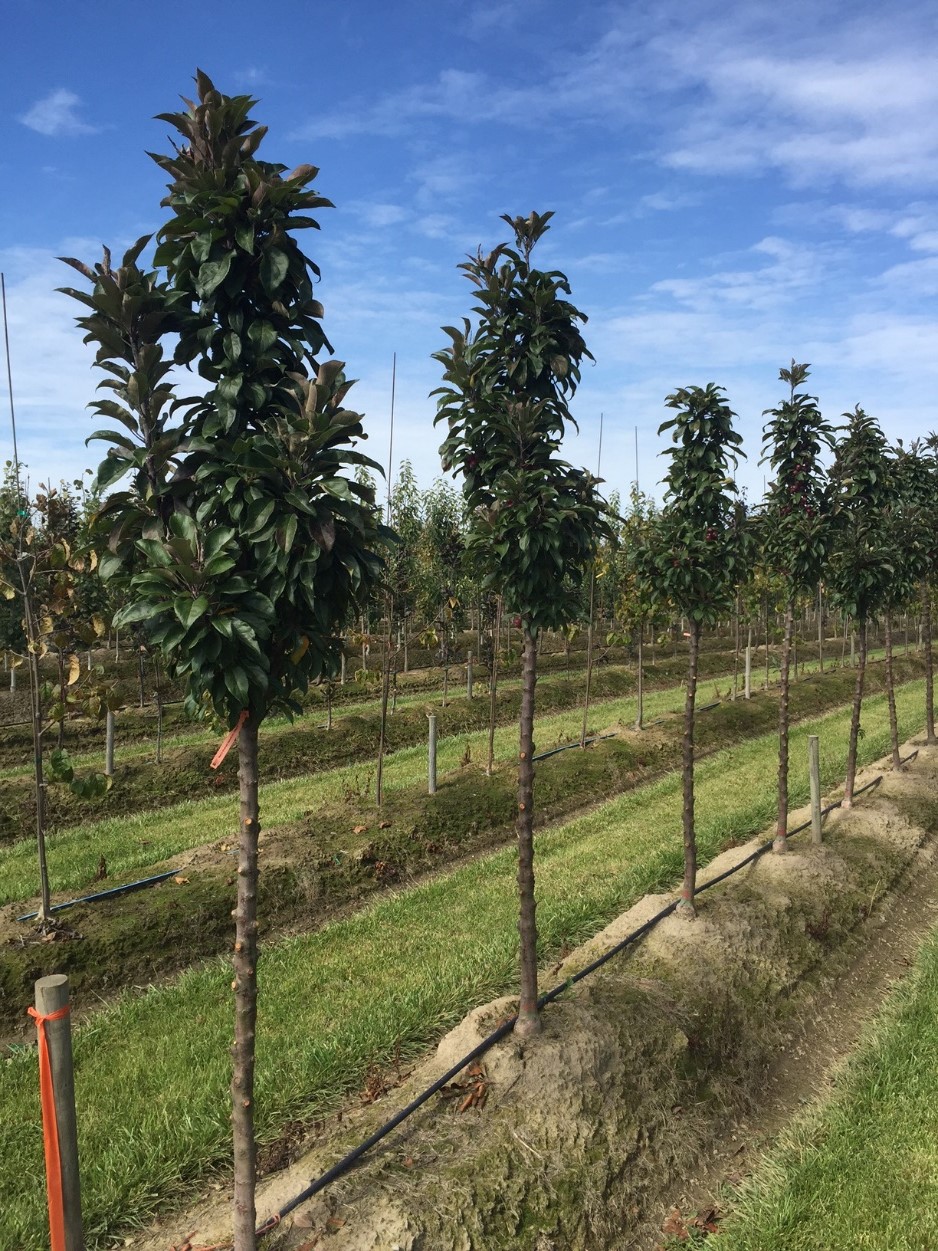 There are technically only a few trees that come close to the small tree category for utility planting these days, maturing at less than 15 feet tall.  There are even fewer that are narrow and this short. The new Emerald Spire® crabapple, Malus x adstringens 'Jefgreen' fits the bill.    Maturing at no more than 15 feet tall and 6 feet wide, this is truly a small tree.  It has shown remarkable winter hardiness and solid disease resistance as far north as Manitoba for over 10 years, making it a zone 2 plant.   Did you hear that Alaska?
The Emerald Spire® crabapple has a very strong central leader with tight upright lateral limbs.  We notice that it has many spurs but only a few that develop into limbs.   It could be grown with low branches as a hedge or accent columnar tree, or limbed up as we do in our nursery to develop a very narrow short street tree.  The literature says they are slow growing but ours took off well from the start.
Spring flower color is fuchsia turning to white, followed by typical dark green to almost purple crabapple leaves. Leaves turn golden yellow in the fall and drop quickly, a good feature for easy clean up.
The fruit is dark red, up to one inch diameter and could be plentiful.  Early November fruit in our nursery is already falling and rotting.  Given the small canopy, the fruit drop should be concentrated and short term.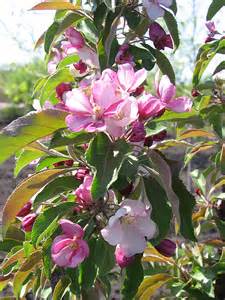 Given their fast growth from bare root liners two years ago, they appear to transplant easily.  Like any crabapple, they don't like wet feet and do best in full sun.  This form is also said to have a wide pH tolerance and to be highly tolerant of urban pollution.
For you breeding enthusiasts, the origin is said to be an open pollinated seedling of a T4 crabapple believed to have 'Selkirk' as the male parent.  T4 crabapple arose from a controlled cross of 'Wijeik' x 'Thunderchild' made by Dr. David Lane of the Summerland Research and Development Centre in British Columbia.  Wow!  What lineage!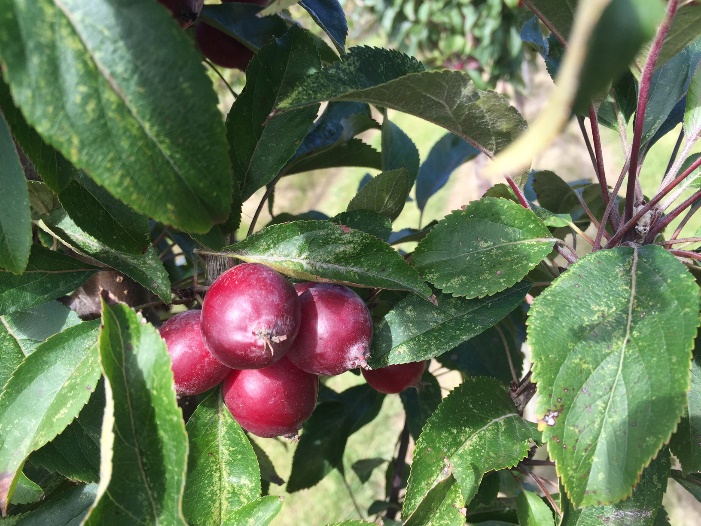 This is a very new tree.   Try it out and spread the word on how it responds to the growing conditions in your area.
As always, let me know your experience with this tree.
Jim Barborinas
ISA Certified Arborist #0135
ASCA Registered Consulting Arborist #356                    
CLICK HERE FOR MORE TREE PROFILES
Certified Tree Risk Assessor #PNW-0327