Crimson Pointe Flowering Plum
Prunus x cerasifera 'Cripoizam' P.P.#19, 564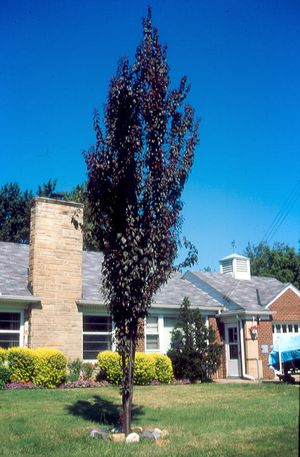 There are colleagues in the Pacific Northwest who feel it is dreary enough around here without adding dark trees to our landscape but on occasion the contrast of dark leaves against the light or bright background is just the ticket.  Our dark leaved tree list is limited especially for those with narrow form.   Fortunately, the relative new Crimson Pointe Flowering Plum, gives us more ammo for just that occasion.
The Crimson Pointe Flowering Plum has a tight narrow upright form that will likely max out in height at 25' but with only a width of 6 to 10 feet.  Side note: I often wonder why some narrow varieties get wide, while that same tree will stay narrow in another location.  Is that a unique characteristic or another variety?  Keith Warren from J. Frank Schmidt Nursery shared with me that we usually find the narrower specimens of a variety in poor soils compared to more broad specimens of that same variety in excellent well drained soils.  Makes sense!
The flowers emerge early before most leaf growth.  Flowers are white with a hint of purple, and usually cover the entire crown for a good early spring show.   Typical plum shaped leaves follow immediately  in reddish  purple and become darker purple through the summer.   Bark is dark, almost black for more great contrast in a light area.
We find transplanting as easy as all other plums with one caution; make sure you have a dense and well distributed root system in your root ball.  From growing many tree varieties, we find that the flowering plum tree is one tree with a very limited root system, so good distribution is critical.  Have you ever noticed how many flowering plums are leaning?  This is part of the reason, in addition to them getting planted too deep.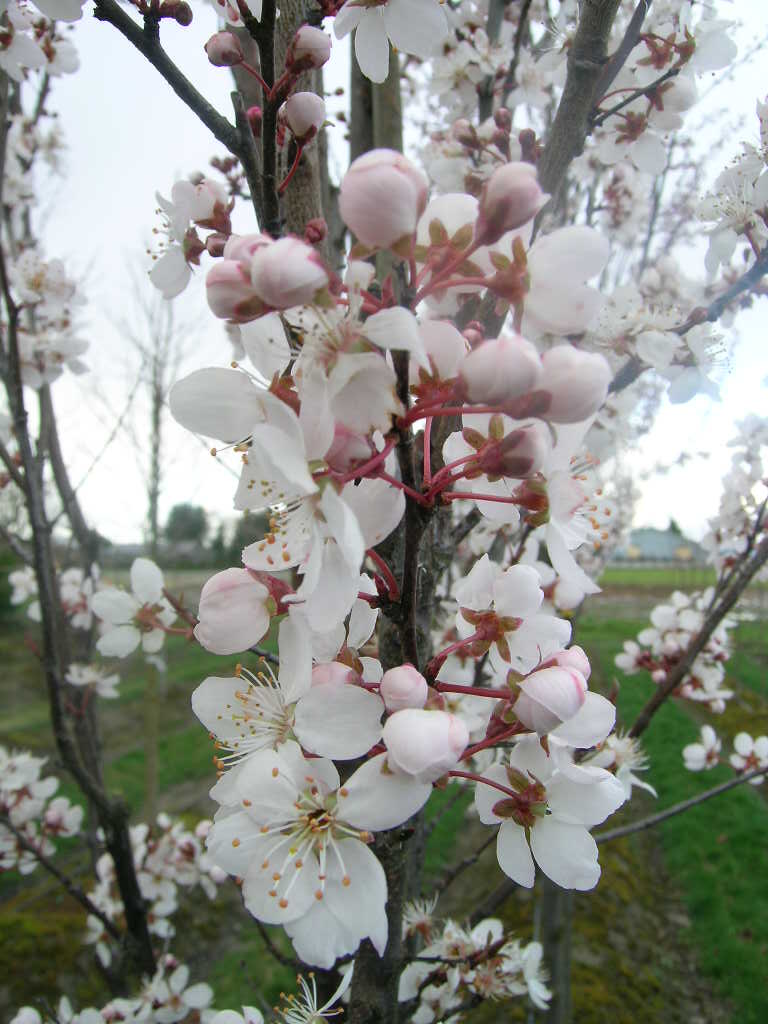 The Crimson Pointe Plum is easily grown with a high crown,  excellent for street tree installation.  If limbs become vigorous, or unbalanced, prune strong partially growth back to maintain a dense column.  Enjoy your tree!
As always, let me know your experience with this tree.
CLICK HERE FOR MORE TREE PROFILES
Jim Barborinas
ISA Certified Arborist #0135
ASCA Registered Consulting Arborist #356
Certified Tree Risk Assessor #PNW-0327